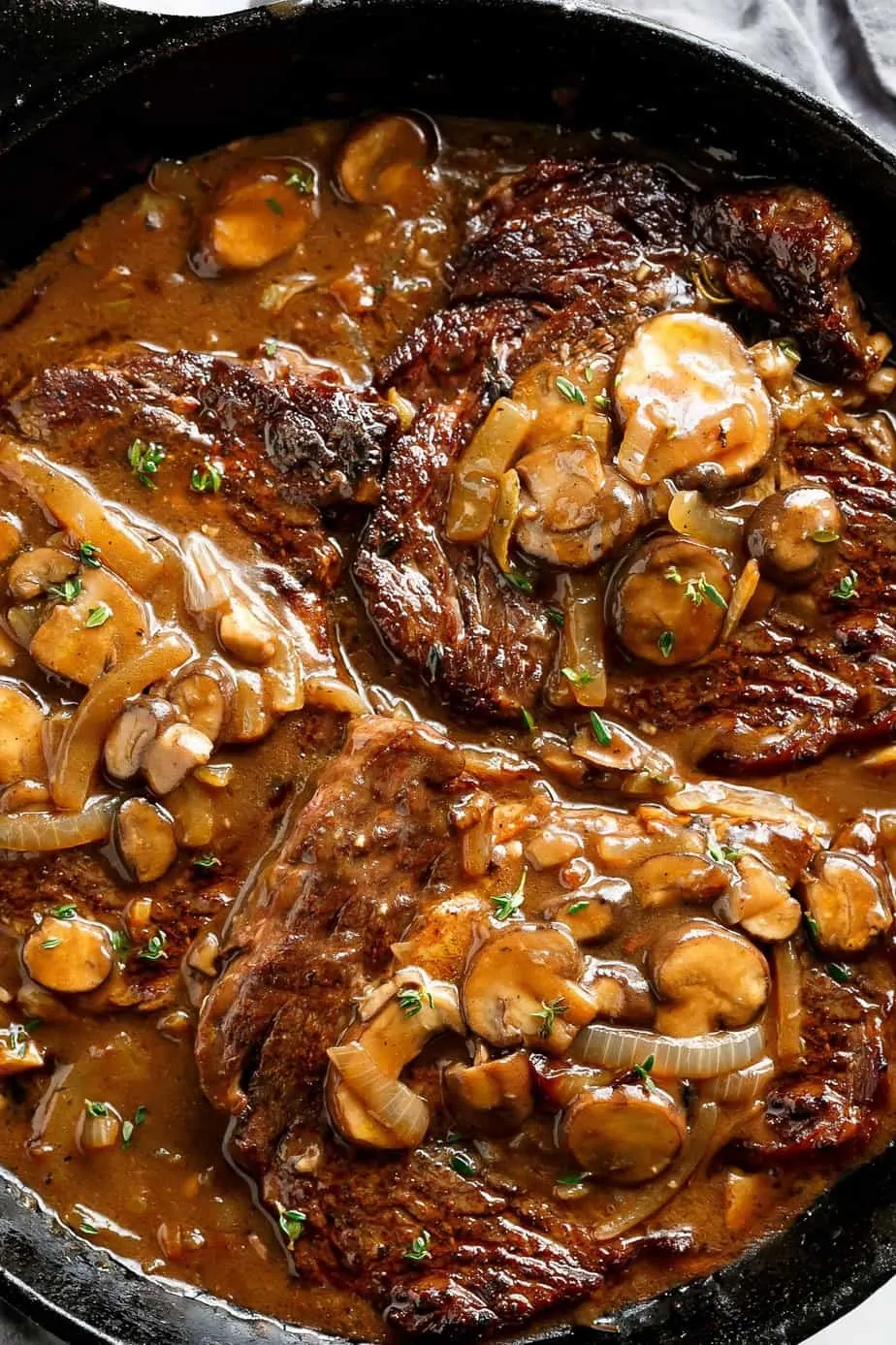 Yes, you read it right this recipe is made of Beef with Mushroom Cream Sauce. Last week I posted a beef recipe the Twice Cooked Beef, it was great for a special occasion. The steak is flavorful, tender, and juicy. I  love it! The disadvantage is that it takes plenty of time to prepare. Yes! it takes a long time! So, today I'll make a beef recipe that is simple and delicious with a quick and easy homemade sauce.
This Beef with Mushroom Cream Sauce is easy to prepare and not time-consuming, it can be done for 20 minutes. If you are a steak and gravy fun this recipe is calling your name!
An ultimate lunch! Ribeye is the choice for this recipe, but you can also use porterhouse, sirloin, or lump. I do agree that this cut of beef is too way expensive but best steak to cook.  They stay tender and juicy compared to other parts of the steak.
You can start with seasoning the steak with salt and pepper. Now its time To cook the steak. Preheat your lightly oiled frying pan until just smoking. Add only two slices of steak in at a time to get the perfect sear.
Then we prepare the  Mushroom Cream Sauce.
To make a perfect mushroom cream sauce, keep all the juices from the steak you cooked in the pan. That's where all the flavor is for your Mushroom Cream Sauce. Add garlic then after 30 seconds you can add the sliced mushroom, cooked it for 3 minutes until softened and creamy. Finally, I will add butter and flour and seasoned it according to your taste.
What's good with this mushroom creamy sauce? You have the option to add the steak back into the pan and allow the sauce to seep into them or serve them with gravy on the side. You will be the one to decide what's best for you. I pick the second option.
Beef with Mushroom Cream Sauce
Ingredients
4 8 oz (225 gram) boneless rib eye steaks, 1-inch thick (or scotch fillet, sirloin, rump, strip or porterhouse steaks)
Salt and pepper, to season
Gravy
2 tablespoons olive oil
1 onion (yellow, white or brown), sliced
2 large garlic cloves, minced
7 ounces (200 grams) brown mushrooms sliced
3 tablespoons unsalted butter
3 tablespoons plain flour
2 1/2 cups beef broth or stock
2 teaspoons Worcestershire sauce
Salt and pepper
Instructions
Pat steaks dry with paper towel. Season with salt and pepper according to your taste.
Preheat a lightly oiled skillet or pan to high heat until it begins to smoke. Cook steaks for 3 minutes each side until cooked. Rest for 5 minutes.
Preheat remaining oil in the skillet. Add onion and cook for 2-3 minutes until onions are translucent, then add the garlic and cook for a further 30 seconds.
Add the sliced mushrooms into the skillet and cook for 3 minutes until the texture is soften.
Reduce heat to medium and melt butter in the skillet. Add the flour and stir for 1 minute,
Gradually add in the beef broth (or stock), while stirring. Allow to simmer for 4-5 minutes until thickened. Stir in the Worcestershire sauce and season with salt and pepper to taste.
Add the steaks back into the gravy in the pan along with the juices on the plate OR serve steaks with the onion mushroom gravy on the side.
Garnish with chopped thyme, parsley or rosemary if desired.
https://appetizergirl.com/beef/beef-with-mushroom-cream-sauce/
I currently teach baking courses and have worked in a number of cafes and restaurants.
Check out my About Us page to find out more about me and my passion for cooking.
Welcome to Appetizer Girl