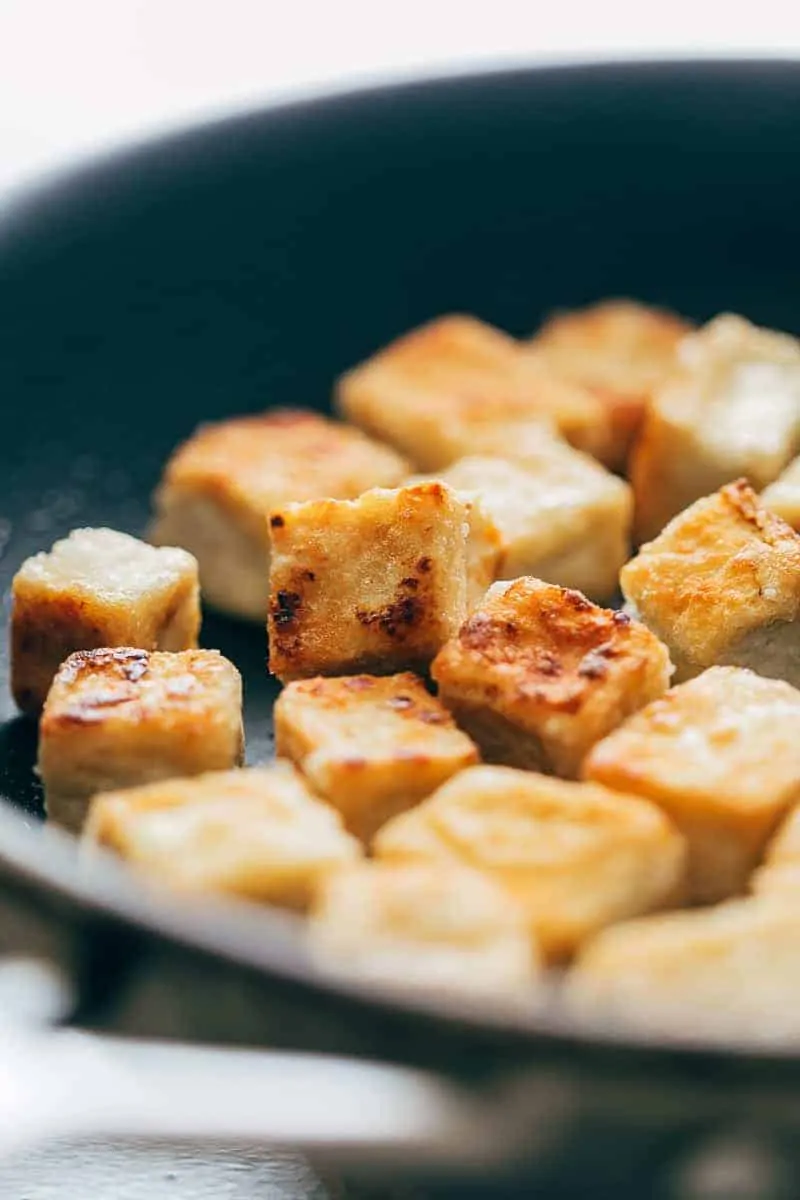 Broccoli Tofu Stir-fry.
A hot sizzling tofu recipe, well, not a literal hot, just excited for something new. A thing that once you tasted you will be addicted kind of hot.
The first time I try tofu I wasn't a fan of it since it has a weird aftertaste. When my friend introduced me to a variety of style in cooking tofu, I realized that creativeness makes these healthy foods taste amazing.
If you are a tofu hater knowing what nutrients it has will change your viewpoint. And this recipe can transform you into a tofu lover. I'll assure you!
Tofu, also known as bean curd is food prepared by coagulating soy milk, pressed the resulting curds into solid form white block. Some kinds of tofu are soft, firm, extra firm, and silken. Tofu contains many nutrients, a large amount of protein, high in calcium and magnesium, and low in calories. So, if you want to stay healthy and at the same time love eating then include this broccoli Tofu Stir-fry recipe in your list.
Another thing that I like about tofu is its versatility. It can take many roles and can easily adapt to the flavors of marinade and sauce. It has a subtle flavor that can taste whatever you want since tofu will let the other flavors shine.
This vegetarian recipe is quick and easy, makes just enough sauce to coat the tofu and broccoli so that they don't get soggy and still remain crunchy.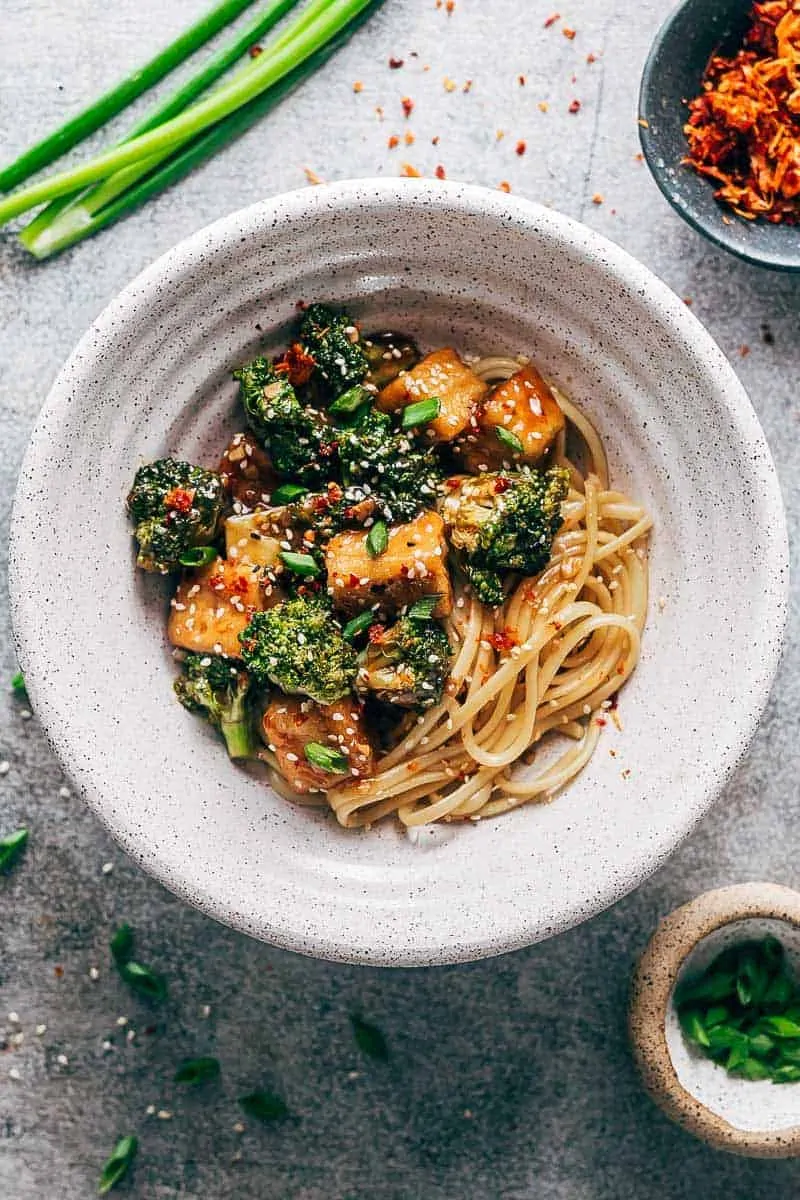 It doesn't require deep frying that keeps the other veggie ingredients crunchy. The broccoli and tofu in the bed of noodles glazed by a sweet and spicy sauce are bursting with flavor. Super love it!
If you want easy vegan recipe try Cauliflower Burrito Vegan and Best VegetarianStuffed Pepper Soup.
This recipe is worth trying.
Ingredients
FOR THE CRISPY TOFU:

400 grams/.8 pounds Extra Firm Tofu
2 tablespoons Cornflour
1/2 teaspoon Salt
1/4 teaspoon ground Pepper
1 1/2 tablespoons Vegetable Oil

FOR THE SAUCE:

1/4 cup low sodium Light Soy Sauce
2 teaspoons Hoisin Sauce
2 tablespoons Rice Vinegar
1 tablespoon Toasted Sesame Oil
1 teaspoon Chilli Flakes
1 tablespoon Cornflour
1/4 cup Water

FOR THE STIR FRY:

1 tablespoon Oil
4 Garlic Cloves, finely chopped
1 inch piece Ginger, peeled and finely chopped
1 whole head of Broccoli, stems removed and cut into florets (approx 600 grams)
Toasted Sesame Seeds and chopped Green Onions for topping
Instructions
Dab the tofu with a kitchen towel or paper towel to get rid of any extra moisture. Cut into 1/2 inch cubes and toss them in a mixture of cornflour, salt and pepper.
Whisk together all the ingredients for the sauce and set aside.
Heat oil in a non stick pan and spread the tofu pieces out so that they are evenly layered on the pan. Cook each side till its a light golden brown and remove from the pan. Don't worry if the tofu pieces stick to each other a bit. You can easily pull them apart once they are cooked and crispy.
Heat oil in the same pan and once its hot, add garlic and ginger. Saute for a minute and add the broccoli florets. Cook them for a minute and pour the sauce into the pan. Stir fry for a minute or two on high heat to let the sauce thicken and then add the tofu. Quickly toss everything together and turn off the flame. Top with sesame seeds and green onions and serve.
Notes
If you'd like more sauce, increase the water by 1/4 cup.
If you can't find an extra firm tofu, remove the tofu from the packaging then place it on a chopping board. Place a flat, heavy object on top and let this sit for 15-20 minutes. Or you can get one of these fancy tofu presses which essentially does the same job of removing extra liquid from the tofu.
You can also use other vegetables in the recipe including snow peas, carrots, beans and mushrooms.
https://appetizergirl.com/appetizer/broccoli-tofu-stir-fry/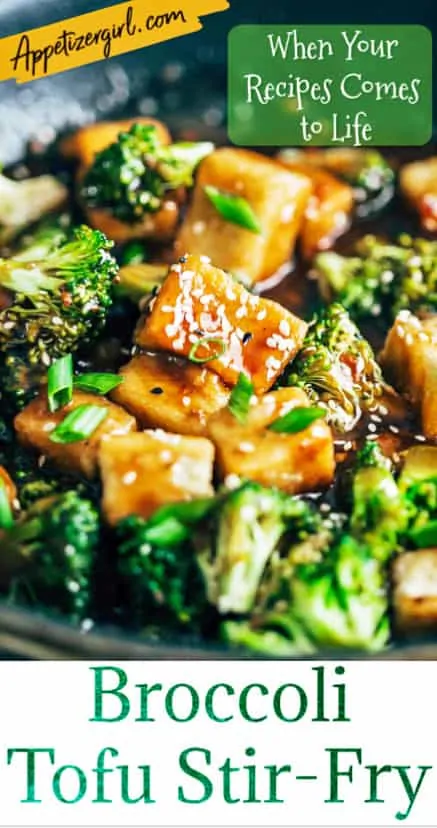 I currently teach baking courses and have worked in a number of cafes and restaurants.
Check out my About Us page to find out more about me and my passion for cooking.
Welcome to Appetizer Girl