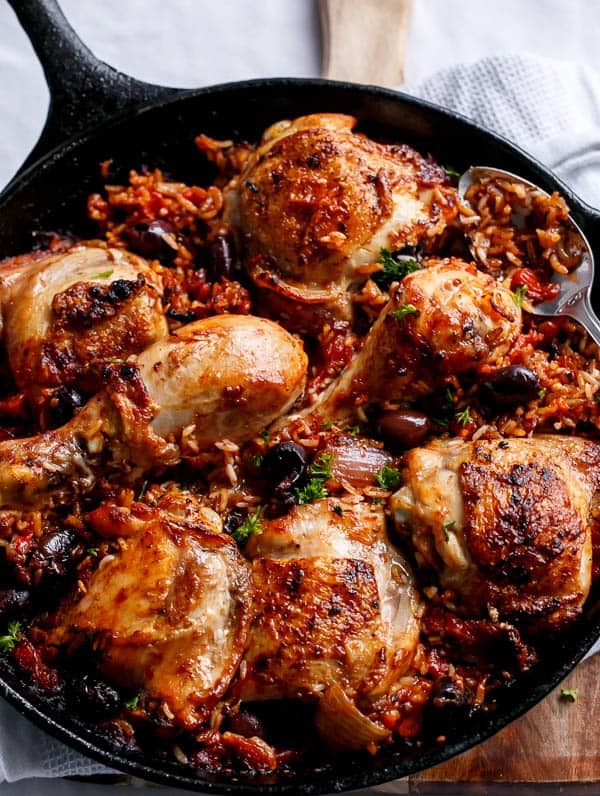 This is another one of those easy one pot meals that pack alot of flavor and nutrition. What I love about one pot meals is that there is no extra mess to clean up once cooked. It's all cooked in the one pot for a great infusion of flavors. Another bonus with this recipe is that its ready in 45 minutes. Don't you just love it when you can prepare something so tasty and delicious and yet so quick!
What makes this chicken recipe so good is the crispy sun-dried tomato flavor on the outside while the inside is still moist and tender. My taste buds are already watering just thinking about it. The chicken is seared first to make sure the juices are locked in. Then they are baked to perfection with all of the other ingredients.
Use a little cheese to sprinkle over the baked chicken prior to serving and viola you have the perfect chicken dish in a dash. So quick so easy. Don't forget the cheese, cheese just goes great with chicken enhancing the flavors. Below is the Italian Chicken and Rice Recipe in One Pot and Ready in 45 Minutes – please share it around.
Italian Chicken and Rice Recipe in One Pot and Ready in 45 Minutes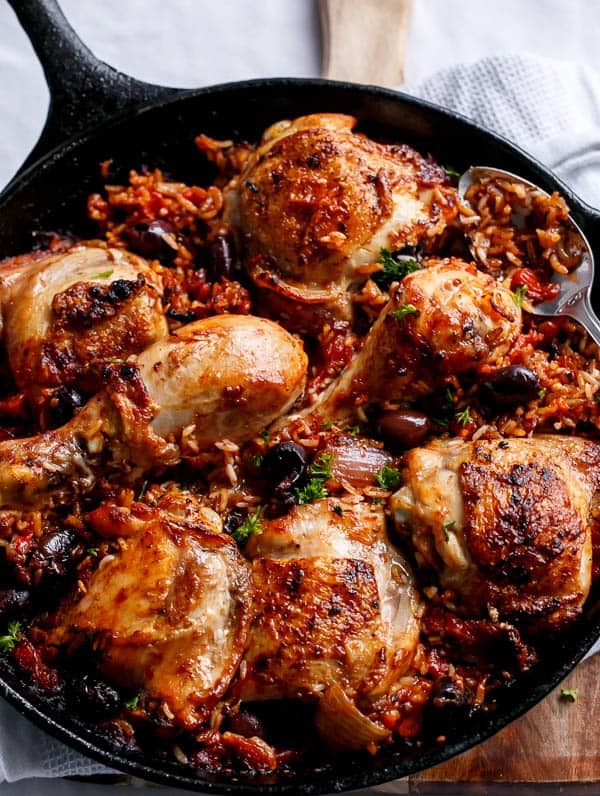 Ingredients
1 tablespoon olive oil
4 fresh chicken thighs
4 fresh chicken drumsticks
1 red onion, cut into wedges
1 red bell pepper, chopped
4 garlic cloves, crushed
1/2 cup of pitted olives
1/2 cup of sundried tomato strips
1 tsp dried basil
1 tsp dried oregano
1/4 cup freshly chopped parsley
1 cup of long grain rice
400 grams canned diced tomatoes
1 1/2 cups of chicken stock
freshly grated parmesan cheese
chopped parsley
Instructions
Heat oven to 200c (400F).
Heat the oil in a large, shallow ovenproof cast iron skillet/or pan.
Add the chicken and fry for 3-4 mins on medium-high heat.
Turn and fry again until golden all over.
Add the onion, red capsicum/peppers and garlic and fry for about 3 mins or until lightly golden and onion is transparent.
Transfer the chicken onto a plate; stir the olives, sundried tomato strips, basil, oregano, parsley and rice into the pan; allow the rice to soak up all the juices.
Return the chicken pieces back to the pan on top of the rice; add the tomatoes and stock.
Bring everything to the boil, rotate the chicken in the sauce before transferring to the oven.
Cover with foil and allow to bake for about 40 minutes (depending on your oven) until the rice has softened.
Remove cover and change oven settings to grill/broil on medium heat; grill/broil for a further 8-10 minutes or until the chicken is crispy and golden.
Season with a little salt to taste and sprinkle with freshly chopped parsley and grated parmesan cheese (optional).
https://appetizergirl.com/chicken/italian-chicken-and-rice-recipe-in-one-pot-and-ready-in-45-minutes-2/
I currently teach baking courses and have worked in a number of cafes and restaurants.
Check out my About Us page to find out more about me and my passion for cooking.
Welcome to Appetizer Girl