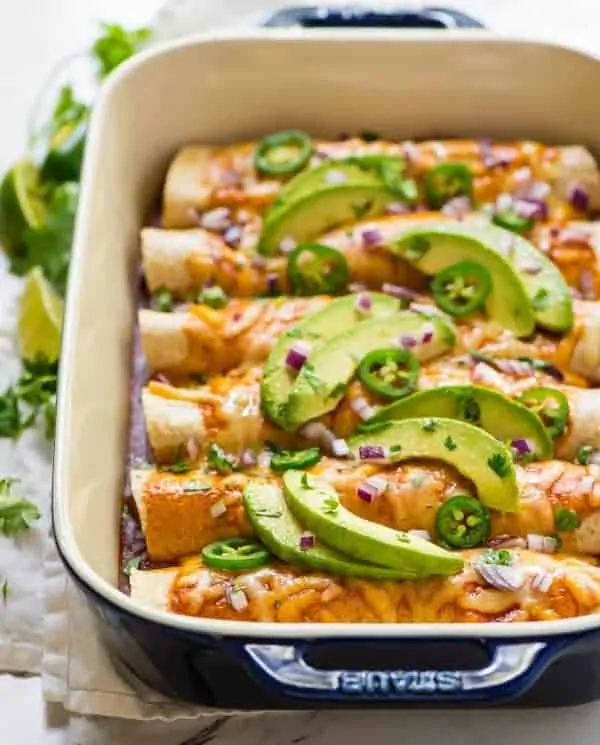 Butternut Squash and Black Bean Enchilada. It's time for EN-CHI-LA-DA!
Hello! Does anybody want to come for dinner? Cause today I made you this Butternut Squash and Black Bean Enchilada. As in whole wheat low carbs tortillas stuffed with butternut squash, onion, garlic, chipotle chili powder, cumin, salt, pepper, and black beans. Smothered with enchilada sauce and topped with grated cheddar. You can add toppings that you like for serving. And surprise!
I'm a fan of enchiladas recipe. But, since it's not on my weekly list, I don't ussually make it. When I visited the Mexican restaurant last weekend, I was inspired to make this Butternut Squash and Black Bean Enchilada. The recipe was mind-blowing, full of goodness and freshness, and wonderfully spicy that caught my appetite. Yeah, the recipe was from scratch but it is incredibly delicious and creamy, all thanks to cheddar cheese.
What I love with this recipe is that it's a hearty real deal dinner. The ingredient is mostly veggies like nutritious butternut squash and protein source black beans, good for those in a vegan diet. Good thing you can just replace the cheese with any nondairy cheese to make it vegan. If you can't find an alternative, forget about the cheddar cheese this Butternut Squash and Black Bean Enchilada recipe will still shine without them.
You can also choose the gluten-free corn tortilla if you want it to make this recipe gluten-free. If you have plenty of time, therefore, I suggest you will make your own home-made corn tortilla.
Some of my Mexican and Vegetarian recipes: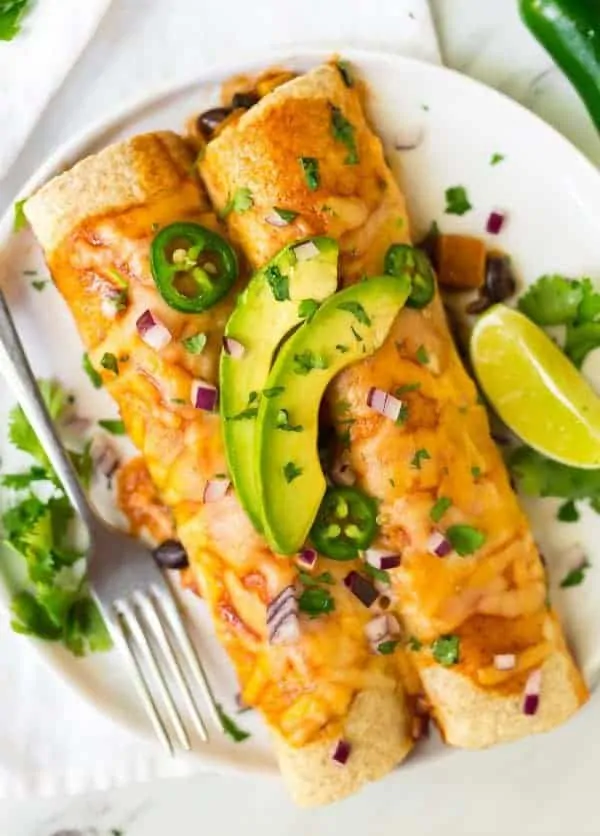 Other people say that vegetarian food can't be filling. They are wrong. This recipe is full of nutrients like protein from black beans and calories, carbs, protein and fiber from squash.
Butternut Squash and Black Bean Enchilada Casserole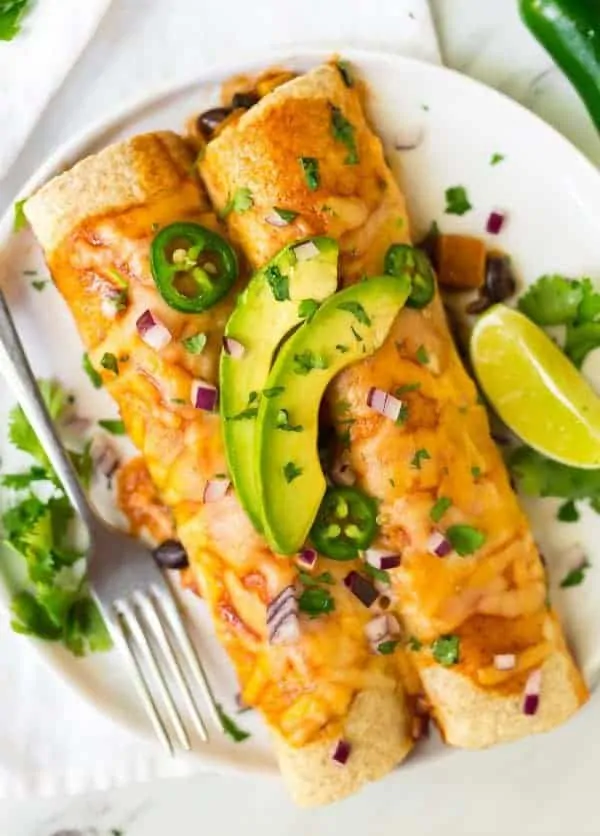 Ingredients
1 tablespoon extra-virgin olive oil
1 small red onion , diced
3 1/2 cups 1/2-inch-cubed butternut squash (about 1 small, 1 1/2-pound squash)
3 cloves garlic , minced (about 1 tablespoon)
1 1/2 teaspoons ground chipotle chili powder (reduce to 1 or 1/2 teaspoon if sensitive to spice)
1/2 teaspoon ground cumin
1/2 teaspoon kosher salt
1/4 teaspoon black pepper
1 15-ounce can Simple Truth Black Beans, rinsed and drained
1 10-ounce can red enchilada sauce (or 1 1/4 cups homemade red enchilada sauce)
3/4 cup freshly grated sharp cheddar
6 taco-sized (about 8-inch whole wheat low-carbs tortillas)
Optional for serving: sliced avocado, chopped fresh cilantro, additional shredded cheese, additional chopped red onion, nonfat sour cream or plain Greek yogurt
Instructions
Preheat your oven to 375 degrees F. Lightly coat a 9×13 baking dish with nonstick spray. Set aside.
Heat the olive oil in a large, deep skillet over medium. Once the oil is hot, add the onion and cook until beginning to soften, 2 to 3 minutes. Stir in the squash, garlic, chipotle chili powder, cumin, salt, and pepper. Sauté until the squash is softened but still has a bit of chew, about 6 to 8 minutes, stirring occasionally. Taste a few pieces of the squash to make sure it's the right texture overall. Stir in the beans, cooking just to warm through, about 30 seconds. Remove from the heat.
Spread a thin layer of the enchilada sauce into the bottom of the prepared baking dish. Fill the tortillas with a heaping 1/2 cup of the squash and bean filling, roll snugly, then arrange side by side in the dish, seam-side down.
Pour the remaining sauce over the top, then sprinkle the top with cheese. Bake for 20 to 25 minutes, until hot and bubbly. Let cool slightly, then serve with desired toppings.
Notes
The Enchiladas can be assembled and stored unbaked in the refrigerator for up to 1 day or frozen for up to 3 months (let thaw overnight in the refrigerator). Top with red sauce right before baking (do not top, then refrigerate or freeze unbaked, or the enchiladas will become soggy).
Baked enchiladas can be refrigerated for up to 5 days or frozen for up to 3 months. To freeze, let the pan cool completely, then cover tightly. Let thaw overnight in the refrigerator, then reheat in the oven.
https://appetizergirl.com/main-dish/butternut-squash-and-black-bean-enchilada-casserole/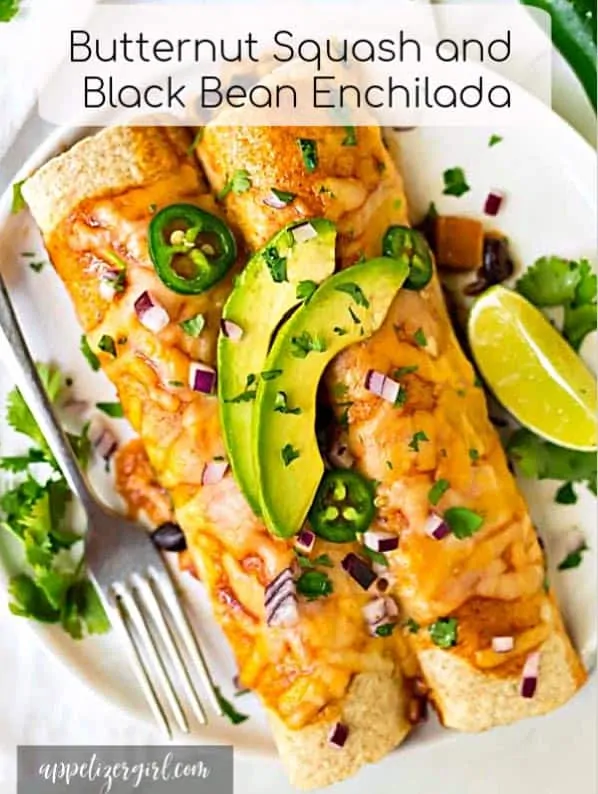 I currently teach baking courses and have worked in a number of cafes and restaurants.
Check out my About Us page to find out more about me and my passion for cooking.
Welcome to Appetizer Girl