Time flies so fast, right? Here we are in another year. Isn't January just too many things?
Isn't Vegetarian Stuffed Pepper Soup one of them?
Many of us thought that January is the most interesting, inspiring, and fun month of the year. I know YOU will agree. I mean NEW YEARS, NEW YOU, NEW THINGS! Some even make new years resolution, well wanna know my viewpoint? You don't need to wait for new years to make changes it can be possible anytime you want it. That might include changes in daily routine, goals, fitness, or eating healthy.
Usually, the low-energy winter shows up around week two of January, all I want is to stay home while watching Netflix with chocolates or any sweet pastries. I don't know I'm weak. I need to do things that keep me active!
So here comes Vegetarian Stuffed Pepper Soup that embraces the BEST of January worlds. This recipe is calling your attention, saying "We should cook more often at home, we should eat more healthy, more vegetables,  we need comfort food for this winter-bodies".
This recipe is vegan, gluten-free,  dairy-free, made with wholesome ingredients. The red lentils are a good source of fiber and protein and it cooks fast making the soup creamy.
This  Vegetarian Stuffed Pepper Soup is very easy. Cook in Instant Pot or Slow Cooker, therefore, you can simply throw the ingredients together. You can notice it has lots of green bell pepper cause that's what I have on hand.
In addition to the bell pepper, the savor of garlic, onion, and jalapeño complete the spicy taste. You can also try this soup recipe:
Instant Pot Minestrone with Pasta
If you get a chance try this recipe. Comments below are appreciated.
Best Vegetarian Stuffed Pepper Soup
Ingredients
1 cup uncooked rice (I like to use jasmine or basmati)
2 cups diced bell pepper
1 cup onion
1 jalapeño (optional)
1 clove garlic
2 tsp avocado oil or olive oil
4 cups vegetable broth*
14.5 oz canned fire roasted diced tomatoes
14.5 oz canned tomato sauce*
1 tsp salt or to taste, see notes
1 tsp black pepper
1 tsp salt-free Italian blend seasoning
1/2-1/4 tsp garlic powder
1/4 tsp dried oregano (I like using dried oregano leaves)
1/4 tsp red pepper flakes
1 cup dry red lentils
Instructions
Cook the rice according to package directions for your preferred method. I skipped my usual stove top rice method and made mine in my Instant Pot using the rice button. Either way works great!
Next chop the veggies and peel and mince your garlic.
In a dutch oven or large pot over medium-high heat, heat up 2 tsp of oil and brown your onion. Cook until tender, approx. 5 minutes, adding garlic towards the end.
Next add everything to the pot and stir. Bring heat to boil, then cover and reduce to simmer.
Allow soup to simmer for 20-35 minutes, or until lentils are tender and creamy. Add rice and stir to mix.
Taste the soup, then adjust thickness to taste, adding a little more broth or tomato sauce to thin the soup if you prefer. Taste again and re-season to taste.The recipe above is how we make it since we love the soup thick like a stew/casserole.
Spoon into bowls and garnish with all your favorite toppings (sour cream is my favorite - vegan or regular!) see notes for some tasty ideas. Leftovers are fantastic and even more flavorful than the first day and this soup can also be frozen for later!
Notes
* Keep a little extra broth or tomato sauce on hand to thin the soup if desired. You can make this soup on the chunkier side as written (it's almost like a veggie + rice casserole or a big ole pot of stew - love it so!) or thin it out with extra tomato sauce and broth. If you thin the soup just be sure to taste as you go and add extra salt, pepper, and spices to make up for the extra liquid.
TASTY TOPPING IDEAS:
sour cream (my favorite!!!) vegan or regular chopped bell pepper chopped/sliced jalapeno fresh diced tomato fresh parsley or scallions crunch corn chips grated cheddar cheese (skip if vegan)
https://appetizergirl.com/main-dish/best-vegetarian-stuffed-pepper-soup/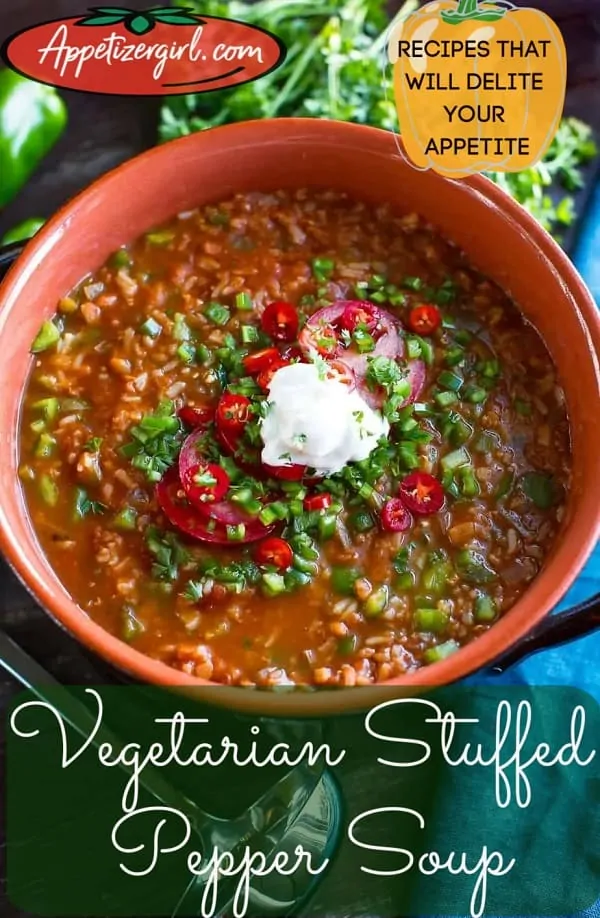 I currently teach baking courses and have worked in a number of cafes and restaurants.
Check out my About Us page to find out more about me and my passion for cooking.
Welcome to Appetizer Girl