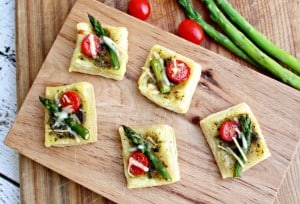 Asparagus Tomato  Squares with Parmesan Cheese
This straightforward asparagus appetizer is ideal for special occasions or perhaps for a simple lunch. I initially made some of these Asparagus Squares while I needed an alternative way to encourage the children to eat more fresh vegetables. Whilst my children normally eat vegetables, they'd prefer to graze on them rather than sit down to some asparagus on the plate.
It's far easier to get the kids to snap up some carrot sticks along with dip, or this straightforward asparagus square appetizer.  It might seems as if it took a long time to create nevertheless it was truthfully seriously fast and simple.
Asparagus Tomato  Squares with Parmesan Cheese Ingredients
1 bunch of fresh asparagus
1 box of thawed puff pastry sheets
1 small container of very fresh pesto
1 medium package of fresh cherry tomatoes
Fresh parmesan cheese, grated
salt & pepper to taste
Asparagus Tomato  Squares with Parmesan Cheese Instructions
The amounts tend to be pretty vague since it truly depends upon the number of people you are entertaining or if you are making it for a treat for your requirements as well as the kids. Alter as required.
Pre-heat the stove to 450F
Roll your puff-pastry sheets a little, even off the sides, then cut into 2 inch squares.
Very carefully move them on to the cookie sheet layered with some parchment paper
Gently brush on the fresh pesto
Add half of a cherry tomato along with a bit of asparagus on to each.
Add some pepper and salt along with parmesan cheese to the top of each one
Bake for  around 10 mins or till golden-brown