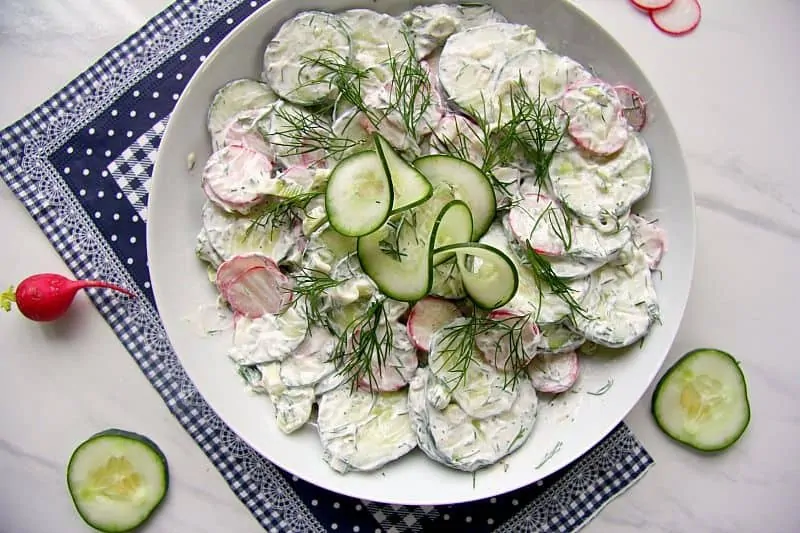 One thing about this Creamy Cucumber Radish Salad: Must Eat Now!
Flavors! Texture! Color! WOW, I can tell that it wakes my mouth up in the best possible way.
Do you want a recipe with a balanced taste of sweet/tang? This is for you! Loaded with fresh cucumber, crunchy radishes which are a powerhouse of minerals like magnesium, copper, potassium, and calcium. Smothered in sour cream. What else can you ask?
I'm trying out some new things on Appetizer Girl these days. Obviously, Salads are part of it as I always say: Salad is my all-time favorite. No question about that!
What I love about salad is its versatility. It can stay alone as a main dish OR side dish. This Creamy Cucumber Radish Salad can be a perfect pair for grilled fish and grilled meat. Thinking about it makes my knee weak! If you love salad recipe's you might also love this:
Broccoli Salad Recipe with Bacon 
Best Couscous Salad Recipe Ever
My favorite part of this salad is the sour cream dressing. You can use mayonnaise as a dressing but I highly recommend trying sour cream first. I even added lemon juice to get the sharp taste I wanted. Turns out awesome!
Since we don't have the same taste buds, you can make your own way of dressing that matches your taste. Greek Yogurt could be a great option too.
This Creamy Cucumber Radish Salad is quick to make. Uncomplicated recipe but delightful and surely will satisfy your taste. Crispy! Filling! Juicy!
Every time I made this I always get the compliment all thanks to my MOM. For those who are waiting for this recipe. This is it.
Feel free to leave a comment.
Creamy Cucumber Radish Salad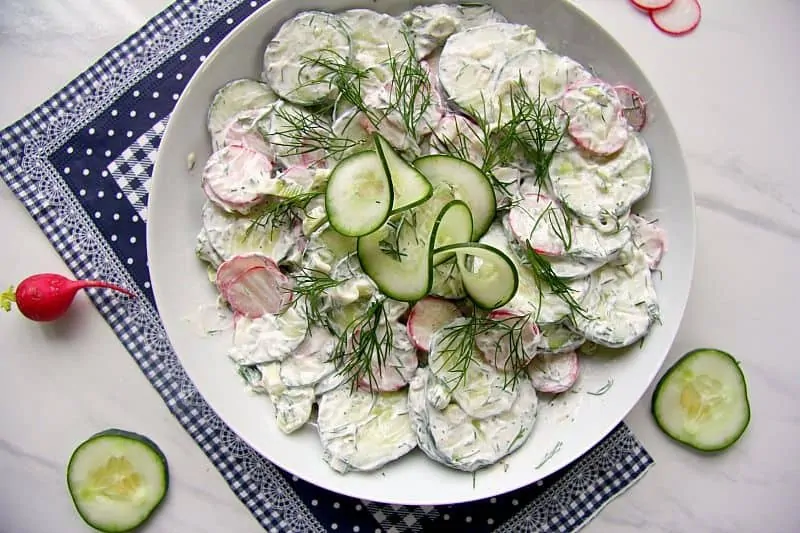 Ingredients
2 cucumbers
10 radishes
2 spring onions chopped
Dressing
1/3 cup sour cream
1 tablespoon lemon juice
1 bunch 15 g Dill chopped
1/2 teaspoon salt
1/2 teaspoon black pepper
Instructions
Finely slice the cucumbers and radishes and set aside.
For the dressing mix the sour cream, lemon juice, chopped dill, salt and pepper.
In a bowl combine the cucumber, radishes and the spring onions.
Pour over the dressing and toss well.
https://appetizergirl.com/main-dish/creamy-cucumber-radish-salad/
I currently teach baking courses and have worked in a number of cafes and restaurants.
Check out my About Us page to find out more about me and my passion for cooking.
Welcome to Appetizer Girl