Sweet and Sour Fillet!
How do YOU feel about FISH? Better question, Who don't you like fish? I'm certain YOU like fish.
I was searching for a fish recipe and found this healthy Sweet Sour Fish Fillet Recipe in Asian style.  You will notice here in my blog post that the fish recipe is one of my favorite dishes. These are some fish recipes that I made that you might like as well:
Mediterranean TUNA Salad No Mayo
I'm not sure if I ever tried this recipe when I was a kid. Probably because it's an Asian dish. But now I find it addicting!
This recipe is also popular in Chinese culture. But usually, they will serve it as a whole fish.
Today let's do some Filipino take-out meal. Come with me as I'll take you to the route of flavor town for this easy and healthy Sweet and Sour Fish Fillet.
I decided not to deep fry the fish. Sauteed it with olive oil, seasoned with cumin and cayenne and a pinch of salt and pepper. Then, cook the fish until golden brown.
To make it extra healthy I added vegetables. Bell pepper and pineapple that create a natural tangy taste which I love the most.
The sauce is a combination of vinegar, pineapple juice, orange juice, sweet chili garlic, ketchup, sugar, and salt. Melt the cornstarch in water. Then mix it in the sauce ingredients in the large skillet to make it smooth.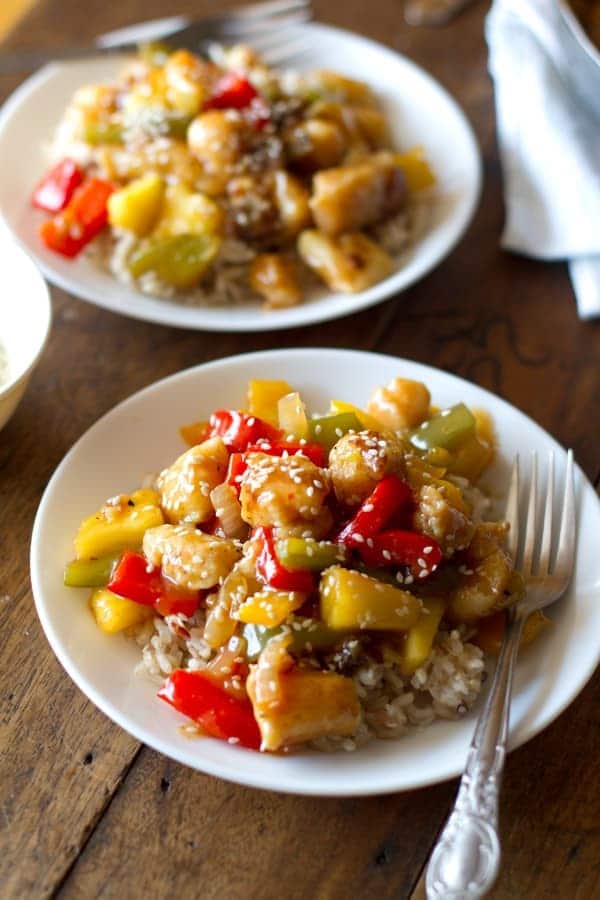 To make this recipe unique  I garnished it with sesame seed and steamy brown rice which is not usual in Sweet and Sour Fish Fillet recipe.
It's your time to head into the kitchen and make this Sweet and Sour Fish Fillet recipe for real! You'll thoroughly enjoy this dish!
Ingredients
2 lbs. white fish fillets such as tilapia
2 tablespoons olive oil, divided
1 teaspoon cumin
1/2 teaspoon cayenne pepper
salt and pepper
2 yellow onions
2 red, yellow, and green peppers (each)
2-3 cups fresh pineapple
1/2 cup vinegar
1/3 cup ketchup
1/3 cup sugar
1/2 teaspoon salt
1/2 cup pineapple juice
1/2 cup orange juice
1/4 cup sweet chili garlic sauce (more to taste)
2 tablespoons + 1 teaspoon cornstarch
cooked brown rice
sesame seeds
Instructions
Fish:

Cut the fish into bite-sized pieces and mince 1 onion. Heat 1 tablespoon of oil in a large skillet over medium high heat.
Add onion and saute for 1 minute. Add the fish and sprinkle with cumin, cayenne, salt and pepper to taste.
Cook, flipping occasionally and draining any excess liquid, for 5-10 minutes or until the pieces are golden brown on the outside and white all the way through. Set aside.

Vegetables:

Chop the bell peppers and 1 onion into bite-sized pieces. Heat 1 tablespoon oil in a large skillet and saute the peppers and onions for 5-10 minutes, until golden brown on the outside and tender-crisp.
Chop the pineapple into bite-sized pieces and add to the pan, cooking for another few minutes. Set aside.

Sauce:

Combine the vinegar, ketchup, sugar, salt, pineapple juice, orange juice, and sweet chili garlic sauce in a large skillet over medium low heat. Simmer for 10 minutes.
Whisk the cornstarch into a few tablespoons of water until smooth. Add to the sauce in the skillet and bring to a low boil. Cook for a few more minutes until the sauce is thickened.
Combine the fish, vegetables, and sauce (you might not want all of it – just eyeball whatever looks good) in a large pan or bowl. Serve over brown rice and sprinkle with sesame seeds. I liked mine with extra sweet chili garlic sauce.
Notes
I only combined half of the veggies with the fish, and reserved the other half so I would have a few vegetarian servings left over. So the recipe, as written, will be pretty heavy on the veggies. Just make adjustments as fits your preferences – more fish, less veggies, etc. If you only used 1 pepper of each color, you'd probably come out with about 6 servings.
https://appetizergirl.com/fish/sweet-sour-fish-fillet/
I currently teach baking courses and have worked in a number of cafes and restaurants.
Check out my About Us page to find out more about me and my passion for cooking.
Welcome to Appetizer Girl