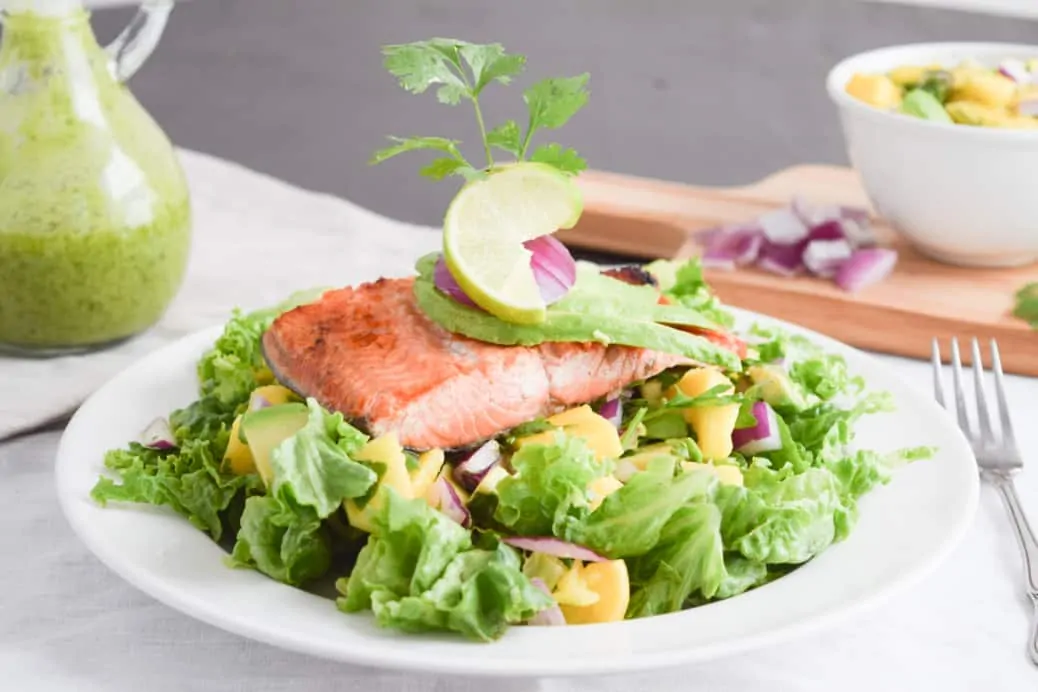 It's  Salmon day! And I'm super excited. It's time for Salmon on Salad Recipes.
Since I see you, reader,  finding it hard to make time to prepare and cook even though you love to eat food you have made with your own hands.  Some make a resolution to eat wholesome and nutritious food but failed because of fast foods that can easily be bought. Who is just asking for good food but are soo busy to attain it? I see you say YES! Well, not literally.
We're the same in this scenario and I understand cause that is what I feel right now. So this Salmon on Salad Recipes is a solution to that problem.
I smell fishy today! Obviously.
If you haven't tried Salmon in a bed of lettuce before, this is worth trying. Before frying, I coated this salmon with avocado oil and I added squeezed lime juice to make it tender and juicy. Then I add some red onion, diced mango, avocado, and cilantro that makes the salad look stunning!
This is the second Salmon recipe that I made, First was Pineapple Salmon in Foil turns out great! Since I love salad  I was thinking what if I will try Salmon with the salad recipe? Glad that my imaginations keep pushing me to try this cause I really love it! I love the taste! the texture! the dressing! I can tell that the combination is awesome.
AMAZING! I'm sure you will be in love with this dish. Can't wait that you guys will try it. Oh, I think I forgot to mention about cilantro vinaigrette on top of it. Makes the salad loaded with perfection. This recipe is very quick and simple, in less than 30 minutes you can have this healthy dish. I'm sure once you taste you will love it.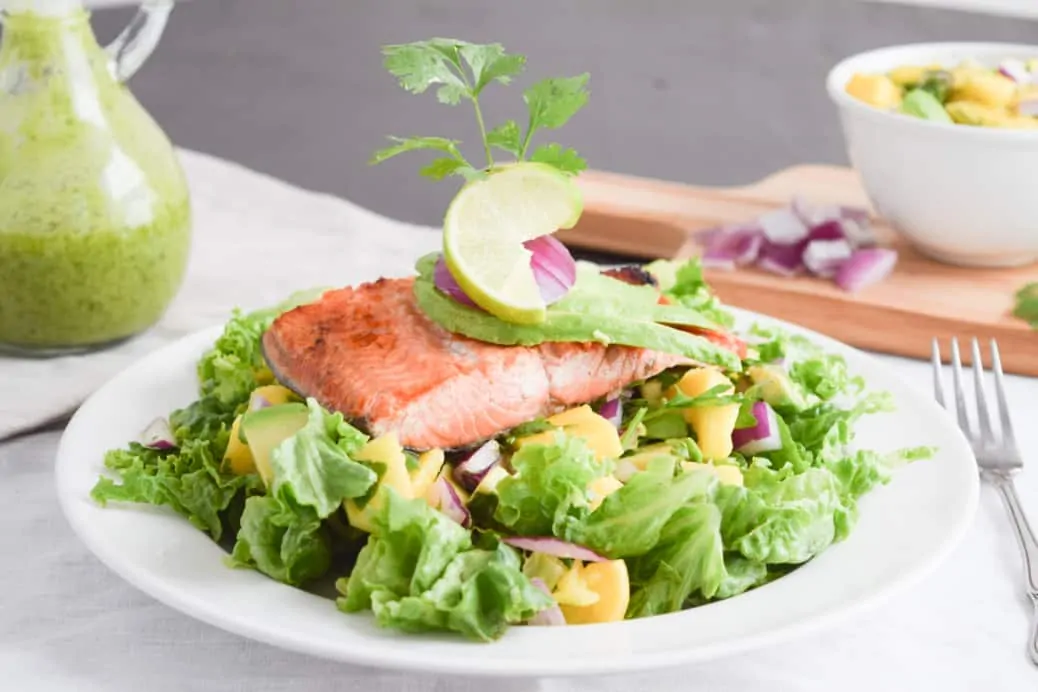 Ingredients
2 4-oz salmon fillets
Juice of 1 lime, squeezed
2 tbs avocado oil
1 head of green lettuce, shredded
Cilantro Lime Vinaigrette Ingredients:
4-8 stalks of cilantro (about 1/2 bunch)
6 tbs avocado oil
2 tbs white wine vinegar
3 tbs lime juice
1/2 avocado
Mango Salsa Ingredients:
1/2 cup red onion, diced
1 cup mango, diced
4-6 stalks of cilantro
1/2 avocado
Instructions
Start by heating the frying pan or skillet on the stove to medium high heat and adding avocado oil to sear fish. Put fish fillets directly on top of oil skin side up and then carefully add squeezed lime juice. Cover pan with lid and cook for 4-5 minutes then flip and cook on skin side for 6-8 minutes. Then remove from heat and chill in fridge while finishing preparations.
While fish is frying, place all of the ingredients for the vinaigrette into a high power blender (though a food processor would do in a pinch) and blend on low for 30 seconds. Empty into a vinaigrette bottle or jar.
Dice all of the ingredients for the mango salsa and combine gently in one bowl.
Shred lettuce in a food processor and place on plates.
Layer on mango salsa, followed by the chilled salmon fillets and top with cilantro dressing.
Refrigerate any extra dressing you have and use within 3-4 days.
https://appetizergirl.com/fish/salmon-on-salad-recipes/
I currently teach baking courses and have worked in a number of cafes and restaurants.
Check out my About Us page to find out more about me and my passion for cooking.
Welcome to Appetizer Girl