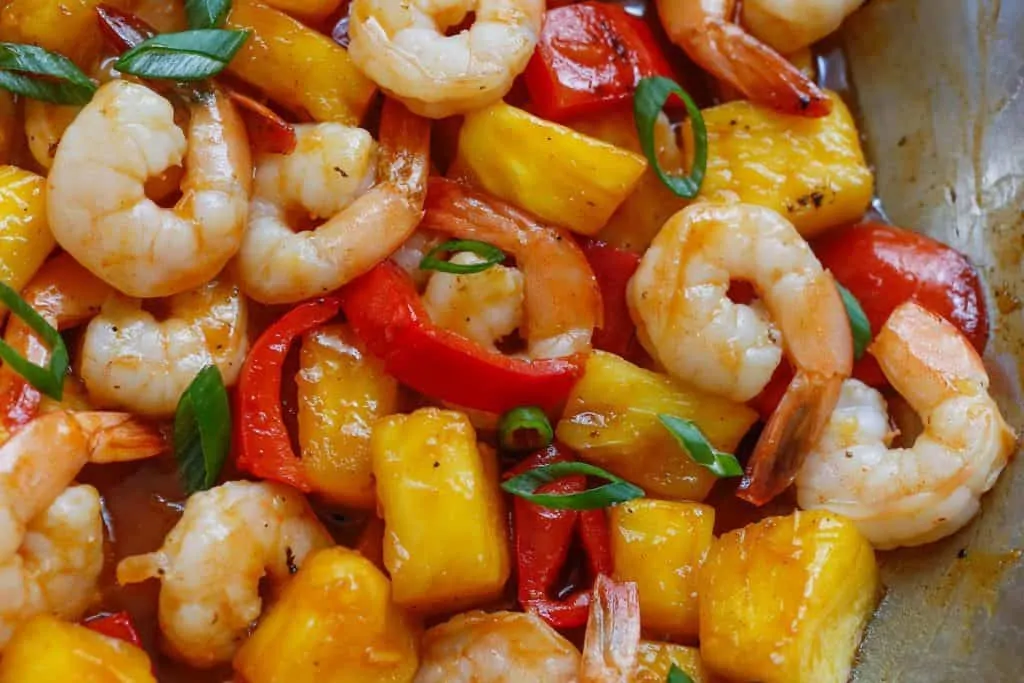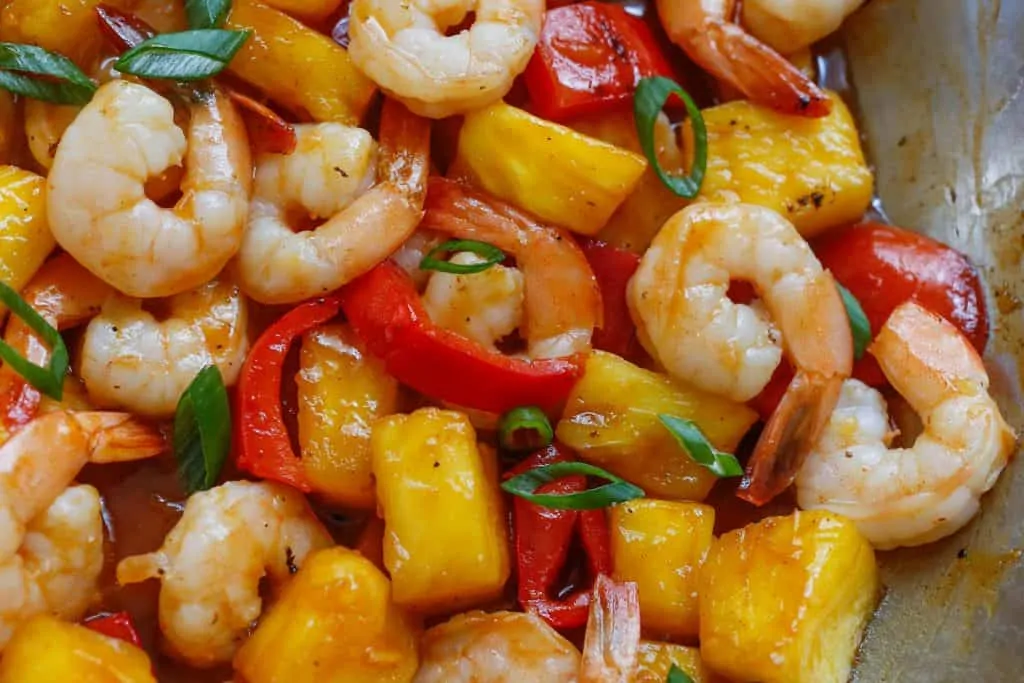 This Spicy Pineapple Shrimp Recipe is a combination of sweetness, tangy, and spicy. I personally love a recipe that has a balanced sweet and sour it builds up my appetite. It is just me? Maybe? well, I can't tell. I hope I'm not alone though!
This Spicy Pineapple Shrimp Recipe is overloading with tasty ingredients that are super yummy. I love how the taste of pineapple complemented the taste of the spicy sauce.
Shrimp is a good well of omega 3 fatty acid that is important for our cardiovascular and nervous system health. We don't often think that shrimp can be a source of antioxidants right? But, according to studies, shrimp attributes three unique antioxidants in its nutrient:  the carotenoid called astaxanthin, the minerals selenium and copper.
Interesting! Knowing this makes me crave for a shrimp recipe. So I explore with a variation of a recipe that I can make with the use of shrimp. This Spicy Pineapple Shrimp Recipe is an outcome. The other month I posted Avocado Shrimp Salad Tasty an awesome salad recipe. Which I also love, you can click the link for the recipe.
You have an option to buy shrimp on the shell but for me, I bought a shrimp that is peeled off and deveined to make this recipe, no more hassle and it won't take you a long time to prepare. Good thing you can serve it by themselves served with rice or with your favorite vegetables.
You need to be creative in making a perfect sauce.
I made my own sauce, and it turned out perfectly!  The advantage is that I can adjust the pungency according to my taste. A super simple mixture of chili sauce, along with some honey, soy sauce, and pineapple juice. Incredibly delicious!
Spicy Pineapple Shrimp Recipe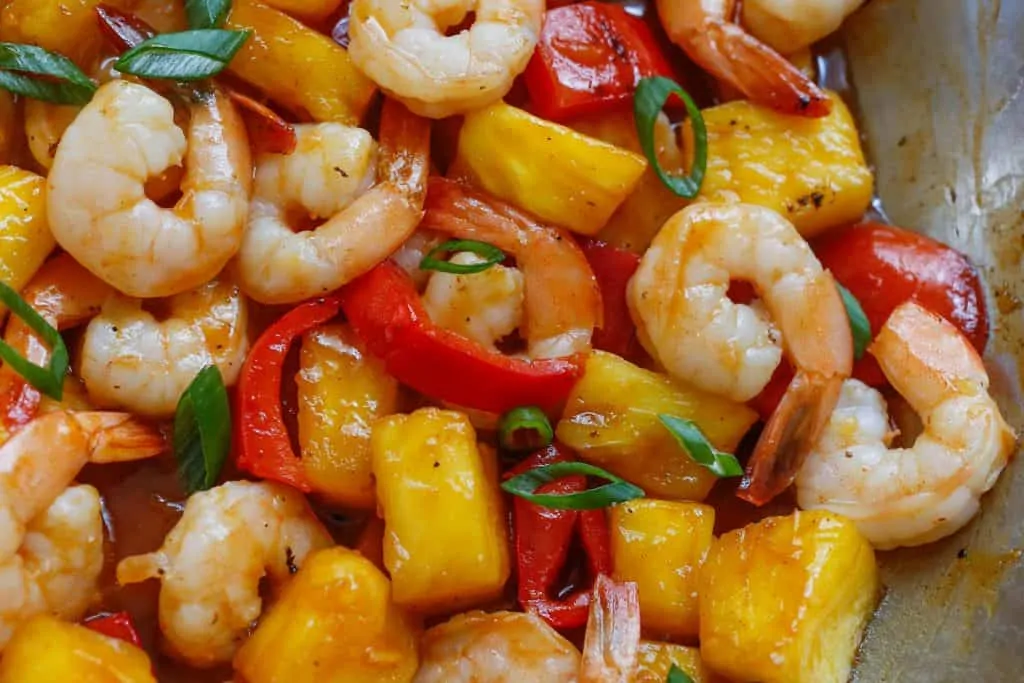 Ingredients
2 tablespoons butter
1 pound medium shrimp peeled and deveined
1-2 teaspoons olive oil
2 cups fresh pineapple sliced and cut bite-size or (1) 14 ounce can pineapple chunks, drained
1 large red bell pepper chopped into bite-size pieces
1/2 cup spicy barbecue sauce or your favorite spicy store-bought sauce
3 green onions sliced thin
Instructions
Rinse the shrimp and pat dry with a paper towel.
In the large skillet, over high heat, melt 2 tablespoons of butter. Add the shrimp and spread across the pan in a single layer. Let it cook without touching it for about 1 minute.
Roll the shrimp over to other side and cook an additional minute. When the shrimp is light pink and cooked through, transfer the shrimp to a plate.
Reduce the heat to medium high and add a drizzle of oil to the hot pan. Toss the peppers in the oil and let them cook until they are slightly browned and barely softened, about 2 minutes. Add the pineapple, toss with the peppers, and let it soften slightly, about 1-2 minutes.
Add the barbecue sauce, stir, and increase the heat to high. When it starts to simmer, Put back the shrimp to the pan, toss everything together to coat well, and cook for about a minute as the sauce thickens slightly. Serve by itself or over rice.
https://appetizergirl.com/main-dish/spicy-pineapple-shrimp-recipe/
I currently teach baking courses and have worked in a number of cafes and restaurants.
Check out my About Us page to find out more about me and my passion for cooking.
Welcome to Appetizer Girl