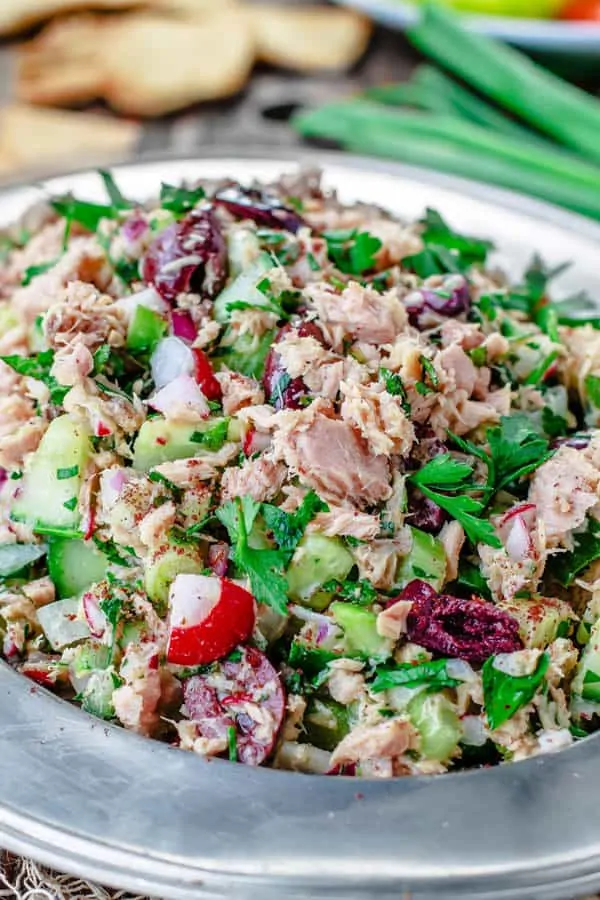 How do you guys feel about tuna? I knew you like it!
Do you have favorite movies? For sure!  Movies that you won't get tired of watching again and again, even you see it many times. I hope I'm not alone in this scenario. The truth is there are too many great movies directed by Christopher Nolan and Steven Spielberg that I love to watch. I mean who doesn't love their amazing movies?
Why am I talking about movies? Well, just like our favorite movies, WE all have favorite foods and recipe that we want again and again. This Mediterranean Tuna Salad No Mayo is one of them. Once you try it I'm Sure this could be a part on your favorite list.
When I first tried this recipe I told myself this is my thing! I love the taste very good for dinner. But wait, is this for dinner only? NO, serve it anytime you want! breakfast, lunch, or snacks.
It's is so delicious to the point that while I'm cooking I tasted a little to know what seasoning to add and I can't stop eating. Whoa, so addicting!
Aside from being delicious, this recipe is quick and simple. It can be done and serve within 15 minutes.
Good thing is that you can stock the Mediterranean Tuna in the fridge. So if you are planning to make this recipe ahead time. Just like what I did, you can chop the cucumber, small radishes, green and red onions, parsley, celery, and mint leaves. This vegetable and ingredients complemented and balance the taste of the tuna.
I was making a unique dressing made from special zesty Dijon mustard vinaigrette. Turns out what I want it to be. Perfect!
If you want another tuna recipe you can check Healthy Tuna Salad.
Mediterranean Tuna Salad No Mayo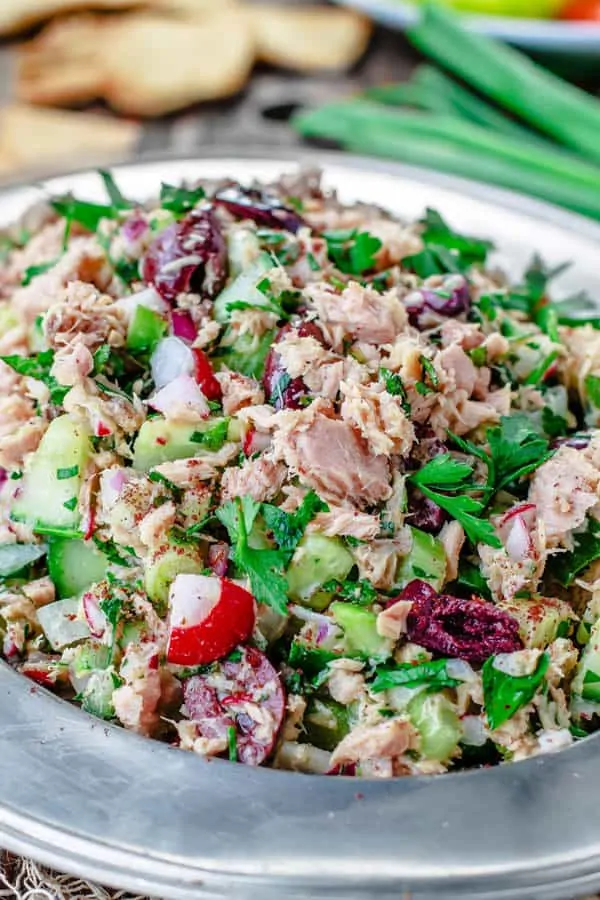 Ingredients
FOR THE ZESTY DIJON MUSTARD VINAIGRETTE
2 1/2 tsp good quality Dijon mustard
Zest of 1 lime
1 1/2 limes, juice
1/3 cup Early Harvest extra virgin olive oil
1/2 tsp sumac
Pinch of salt and pepper
1/2 tsp crushed red pepper flakes, optional
FOR THE TUNA SALAD
3 5-ounce cans Genova tuna in olive oil
2 1/2 celery stalks, chopped
1/2 English cucumber, chopped
4-5 whole small radishes, stems removed, chopped
3 green onions, both white and green parts, chopped
1/2 medium-sized red onion, finely chopped
1/2 cup cup pitted Kalamata olives, halved
1 bunch of parsley, stems removed, chopped (about 1 cup chopped fresh parsley)
10-15 fresh mint leaves, stems removed, finely chopped (about 1/2 cup chopped fresh mint)
Six slices heirloom tomatoes for serving
Pita chips or pita pockets for serving
Instructions
Zesty Mustard Vinaigrette:

In a small bowl, whisk together the Dijon mustard, lime zest, and lime juice. Add the olive oil, sumac, salt and pepper, and crushed pepper flakes (if using), and whisk again until well-blended. Set aside briefly.

Tuna Salad:

In a large salad bowl, combine the 3 5-oz cans of Genova tuna with the chopped vegetables,Kalamata olives, chopped fresh parsley and mint leaves. Mix gently with a wooden spoon.
Dress the tuna salad with the zesty mustard vinaigrette. Mix again to make sure the tuna salad is evenly coated with the vinaigrette. Cover and refrigerate for half an hour before serving.
When ready to serve, toss the salad gently to refresh. Transfer to a serving platter with a side of pita chips or pita bread and sliced heirloom tomatoes. If you like, serve a portion of the tuna salad over the sliced heirloom tomatoes. Enjoy!
https://appetizergirl.com/fish/mediterranean-tuna-salad-no-mayo/
I currently teach baking courses and have worked in a number of cafes and restaurants.
Check out my About Us page to find out more about me and my passion for cooking.
Welcome to Appetizer Girl